Posted on Sep 8th 2017
For top gold forecaster BNP Paribas SA, bullion bulls are up against a clear and present danger -- the U.S. Federal Reserve.
The central bank's plan to raise interest rates again this year while potentially reducing its balance sheet is negative for the non-interest bearing asset, says Harry Tchilinguirian, the head of commodity markets strategy at BNP Paribas in London, which topped Bloomberg's gold accuracy rankings in the second quarter. He's among the most bearish forecasters, betting bullion will drop to $1,165 an ounce in the fourth quarter, from $1,225.70 at 8:41 a.m. in New York on Thursday.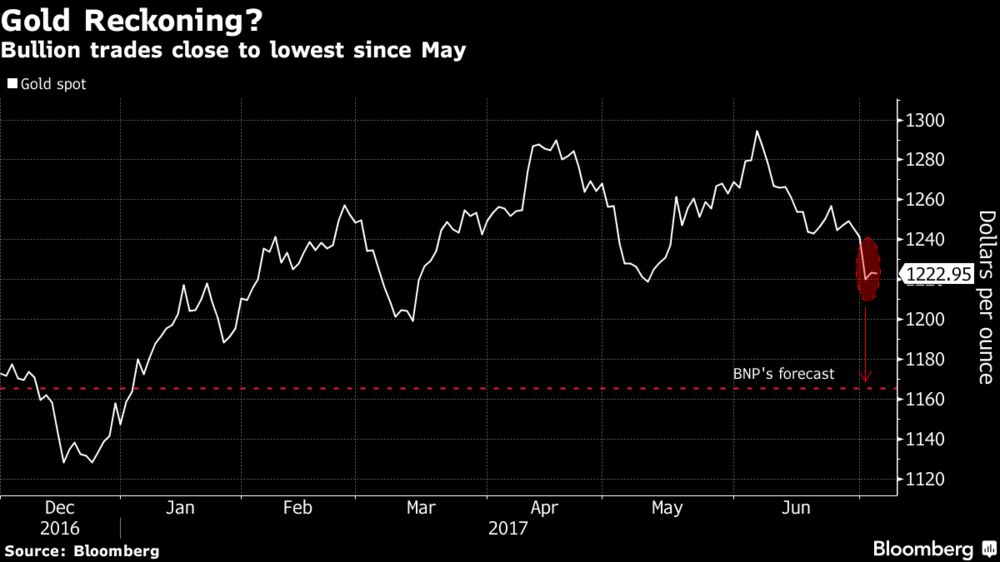 Gold posted its first monthly loss this year in June as indications of stable economic growth cut demand for haven assets and investors looked past geopolitical concerns, including U.S. tensions with North Korea and conflict in the Middle East. At the same time, central banks are signaling higher borrowing costs, prompting hedge funds and other large speculators to reduce long positions in U.S. bullion futures and options to the lowest since May. The metal is still up almost 7 percent this year.
Investors will face "a greater opportunity cost of holding gold" as Fed hikes drive real rates higher, Tchilinguirian said in an email, adding that BNP expects the next rate increase in December. Support from geopolitical events and hedging "are unlikely to affect our directionally negative view on gold for the year."
The fourth quarter 2017 estimate from BNP, which was the top gold and precious metals forecaster in the three months ended December 2016, compares with the $1,230 median projection of 31 analyst estimates compiled by Bloomberg.
Should gold breach technical support in the $1,190 to $1,200 range, the price could undergo "further corrections toward the December 2016 lows," Tchilinguirian said. The metal touched a 10-month low of $1,122.89 in December, according to data compiled by Bloomberg.
Bullion's recent drop has been exacerbated by a rebound in the U.S. dollar as equities surge and risk sentiment improves. Speculation that the European Central Bank will reduce monetary accommodation could also weigh on the metal, Tchilinguirian said.
Others aren't as bearish. Gold will probably trade in a range of $1,200 to $1,300 as the metal tracks U.S. real interest rates, according to UBS Group AG's wealth management unit. "We like the insurance qualities for gold just from an unknown perspective at these sorts of levels," Wayne Gordon, executive director for commodities and foreign exchange, said on July 4.